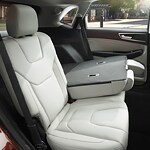 The new Ford Edge is a unique vehicle, to say the least. This popular SUV has all of the tools to handle your every need while commuting. This SUV also comes in various trim levels, and there's a high-performance trim that's available.
Alexa innovation is heaven-sent. This technology can communicate with your home's smart devices. In addition to that, Alexa innovation can act as your very own personal assistant. The Ford Edge takes it further by offering in-car navigation that's very accurate. You can view your navigation via the SUV's touchscreen display. This touchscreen display is hyper-responsive to the touch, and it hosts various apps. The Bang & Olufsen sound system produces concert-like audio that can be felt. When it comes to fuel efficiency, the Edge provides at least 29 mpg on the highway.
Want more details? We want all SUV enthusiasts to swing by our showroom as soon as possible.