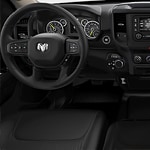 The new Ram 1500 is an all-new, exciting and popular full-size pickup truck that is ready to serve all of your driving needs. It has the power and performance to make it well-suited for work driving. However, it also has safety features that optimize it for family driving.
Knowing what is behind, beside, and in front of your pickup is easy thanks to the 1500's surround vision camera. This camera gives you a 360-degree view of the surroundings around your pickup. It makes it easier for you to back up out of your driveway or parking space.
It also comes with a lane-keeping assist and blind-spot monitoring system that alerts you to any traffic in your blind spot. You will know if you are weaving over the median or drifting onto the shoulder. You can correct your driving and avoid being in an accident with other vehicles.